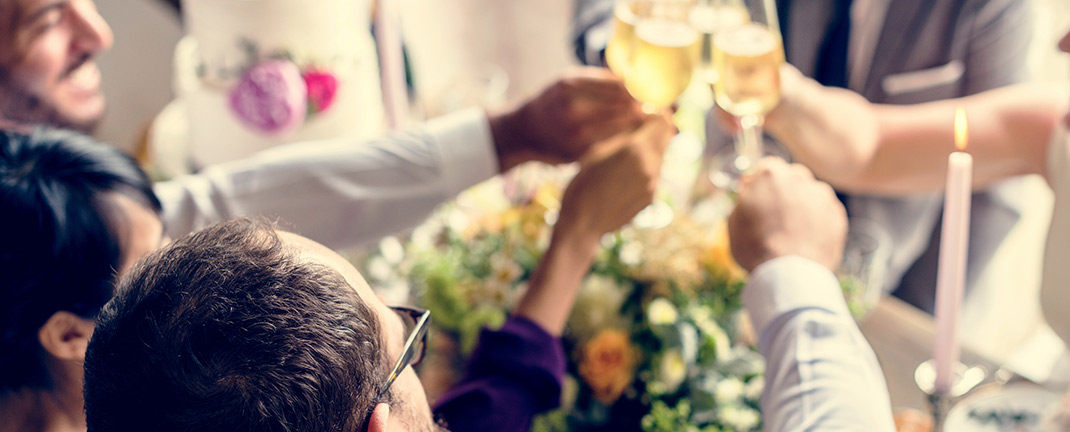 So, you, as the best man, have realized you need to write a wedding toast!!!  Having had the honor to host thousands of weddings, we have heard many and have come up with a guideline to keep your audience entertained but be genuine as well.  Traditionally, the first toast at a wedding reception is given by the best man.  We are going to give you some guidelines to keep the party momentum going but also deliver the kind of toast that is going to be remembered for a while.
Rule #1 – Be Brief
Since you are not the only one who is going to give a toast, make it short, personal, and funny.  Try to stay between 3-5 minutes.
Rule #2 -Rehearse
You will be standing in front of many people and you do not want to choke on your words so take the time to practice.
Rule 3 – Keep It Classy
Jokes and stories are great but know which ones to tell and which ones to keep for those one on one occasion that will fill the couple's lifetime.
If writing is not your forte, try a quote from a movie or a book to be able to get your thoughts going.  Here is one we love, used at one of our weddings, from the movie the Notebook,
The best love is the kind that awakens the soul; that makes us reach for more, that plants the fire in our hearts and brings peace to our minds.
That's what I hope to give you forever.
Just remember the couple picked you out of all their friends to carry on such duties therefore they know you are more than capable to handle it.  As always, we are here to help you set the mood for a beautiful wedding filled with toasts and cheers for a lifetime of happiness. Give us a call 818.755.9999 or visit us at Mirage to book a tour of our many wedding and event venues.