Baby Showers
Is there any feeling more spectacular than the moment when you learn that you are pregnant? In less than a year you will be holding a beautiful baby boy or girl, starring into miniature eyes that are like replicas of your own. But until then, why not celebrate this joyous occasion?
Baby showers rank up with wedding receptions on the list of "most exciting achievements" that a person will have in their life. Whether it is your first child or your tenth, you have reason to celebrate!
Instead of hosting your baby shower in your living room, consider inviting your girlfriends out to Mirage XO Lounge or Banquet Halls for an intimate luncheon. This atmosphere will add to the importance of the occasion, and will save you time having to clean up the house! The Mirage staff offers help with baby shower decorations to make the party absolutely perfect, just like your newborn will be.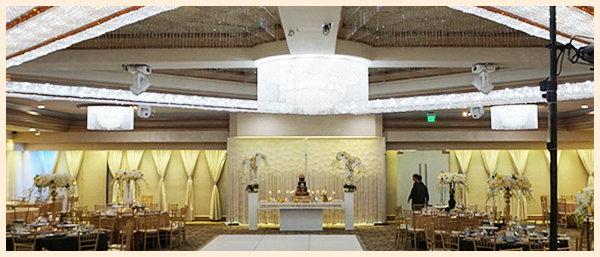 Los Angeles Wedding Venues
Mirage's Los Angeles wedding venues are absolutely spectacular. If you are looking for a banquet or reception hall to hold your wedding reception, bridal shower, or engagement party, we have all of the luxuries to make the event unforgettable.
Of all the Los Angeles wedding venues, you can't ask for more than Mirage has to offer. Our staff is extremely helpful and will answer all of your questions. We will accommodate you in planning the bridal showers, decorating and any other way we can. Contact us if you need any more details or would like to schedule a tour of the banquet hall.