Anniversary Celebrations
Marriage is such a noble venture and we like to honor those couples that make their marriages last for long periods. Anniversary celebrations are the perfect way to show appreciation for your spouse, parents, or grandparents and everything the lengthy union has achieved.
Anniversary celebrations are fine for any marriage length, whether it be 10 years, 25 years, 50 years, or even just a shorter 5 year anniversary. Regardless, the fact that a husband and wife could stay in love for so many years after their wedding is testament of a solid relationship.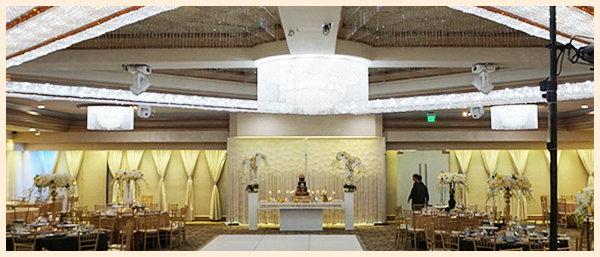 Los Angeles Wedding Venues
Mirage's Los Angeles wedding venues are absolutely spectacular. If you are looking for a banquet or reception hall to hold your wedding reception, bridal shower, or engagement party, we have all of the luxuries to make the event unforgettable.
Of all the Los Angeles wedding venues, you can't ask for more than Mirage has to offer. Our staff is extremely helpful and will answer all of your questions. We will accommodate you in planning the bridal showers, decorating and any other way we can. Contact us if you need any more details or would like to schedule a tour of the banquet hall.